Tilapia is a great little white fish. It's light and easily takes on flavor. Adding just a little bit of seasoning goes a long way with this fish! Garlic and ginger are a natural together, and on this fish they are even better!




Ginger and Garlic Tilapia
From Sabreland
|
Main Dishes
|
American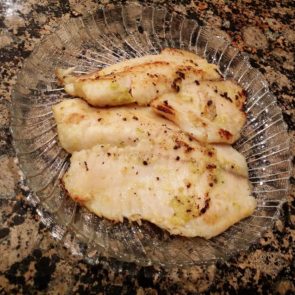 Ginger and garlic always go great together. Add some balsamic, olive oil, and Dijon, and you have a very delicious base sauce for fish and chicken.
cal
Calories

156kcal
fat
Total Fat

5g
Low sat-fat
Saturated Fat

1g
chol
Cholesterol

57mg
Low sodium
Sodium

129mg
Low carbs
Total Carbohydrate

4g
Serving size
150g
Calories from fat
49kcal
Fiber
1g
Protein
23g
Sugar
2g
Ingredients
1

tbsp

fresh grated

ginger

2

tbsp

golden Balsamic vinegar
Directions
Grate the ginger and finely mince the garlic and scallions
In a small bowl, mix the ginger, garlic, and scallions with the balsamic and Dijon
Add mixture to a blender, with salt and pepper, and slowly add the olive oil
Blend until smooth
Spread over fish and squeeze lime juice over it
Grill on high heat, adding lime to keep moist